The Combat Carrier Form is a sentient being infected by the Flood Infection Forms and serves as a basic combat unit and transporting Infection Forms.
Overview and Background
TBA
Types of Combat Carrier Forms
ODST Combat carrier Form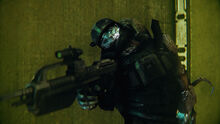 Like the Marine Combat Forms, the ODST Form generally prefer ranged weapons. One unique aspect is that this form is immune to headshots. Upon death, this form releases infection forms though not as many as the Carrier Forms.
Elite Combat Carrier Form
Unlike the Elite Combat Form, they don't have shielding and have less armor.
Gameplay Information
General
TBA
Strategy
TBA
Developer Information
TBA
Trivia
Combat Carrier Forms first appeared in the co-op missions for Halo Spartan Assault.
The Elite Combat Carrier Form bears more resemblance to the original Elite Combat Form from Halo CE
Gallery
TBA