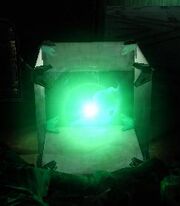 An Overshield is a form of cuboid Covenant-developed technology that strengthens the energy shielding system of the user.
Overview & Background
The overshield technology is developed by the Covenant to enhance their Sangheili warriors' personal shielding system. The overshield can be used by anyone utilizing a personal shielding system such as a SPARTAN in a Mjolnir Armor or Sangheili with a Combat Harness.
In Halo: Combat Evolved, the overshield boosts the player's shields to 300%. The player's normal shield does not take damage until the overshield is completely depleted (although any damage overlapping from something destroying the overshield (i.e. a grenade's explosion) will also do damage to the player's normal shield).
Gameplay Information
Advantages
Useful and recommended when attacking Hunters or a large group of enemies with higher ranked units.
Can allow the player to take a lot more damage and escape out of tricky situations.
Disadvantages
Can still be depleted by an Overcharged shot from a Plasma Pistol.
Developer Informations
TBA
Trivia
The Overshield shares some resemblence to the Reflex Enhancement powerup, with the only difference being the shape. The Overshield is cuboid whilse the Reflex Enhancement is a trapezoid.
Gallery
Community content is available under
CC-BY-SA
unless otherwise noted.