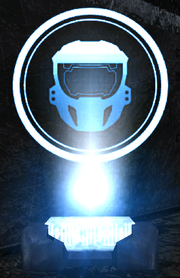 The Visual Intelligence System, Reconnaissance, abbreviated as VISR, is a proprietary integrated data management system, typically incorporated directly into the helmets of Orbital Drop Shock Troopers or as an Armour Upgrade Module for MJOLNIR Armour.
Overview & Background
Enemy and friendly infantry, weapons and objects are highlighted with different colours: "Friendly" combatants are highlighted in green; "Enemy" combatants are highlighted in red; Vehicles are highlighted in green or red depending on their current/previous driver/pilot; Charging stations, doors, terminals and other areas of interest are highlighted in bright yellow; Weapons, ammunition, some equipment, scenery, buildings and other objects are highlighted in Blue.
Gameplay Information
Advantages
VISR highlights the entire environment when active, increasing visibility in dark/low light environments.
VISR can highlight combatants (Allied and Enemy), vehicles and objects of interest (doors, terminals, etc.), allowing them to better stand out on the battlefield.
Disadvantages
VISR runs on a limited power supply which recharges when not in use.
VISR cannot detect enemies under the effects of Active Camouflage.
Developer Informations
TBA
Trivia
This armour ability takes advantage of the Open Sauce program, which enhances what the game engine is able to do.
Gallery
Community content is available under
CC-BY-SA
unless otherwise noted.